89.5 KVNE
MINISTRY PARTNERS
Since May is Foster Awareness Month, 89.5 KVNE is partnering with The Fostering Collective!
MORE ABOUT this month's featured ministry partner!
The Fostering Collective exists to recruit and shepherd Christ-centered families in East Texas to help children in foster care.
Right now in East Texas there are more than 2,000 children in foster care. Of these 2,000 children, more than 400 are available for adoption.
This month, 89.5 KVNE is partnering with The Fostering Collective to shed light on the needs of foster care and more importantly how you can help.
Are you feeling led to foster or adopt?
Right now in Smith County alone, there are 250 children in foster care and 22 children waiting for their forever family.
Could you be one of those families?
Smith County has around 140 foster families who are sacrificially loving these children. They need support from our community.
The Fostering Collective helps to train babysitters for foster families and provide essential items like car seats, clothes, and toiletries.
They also provide Christ-centered training opportunities so that these families can show the love of Christ to children in foster care.
Interest Meeting for Fostering and Adoption/Babysitter Training

May 28 at 6 p.m.
Green Acres Baptist Church
If you're interested in foster care or adoption, please join The Fostering Collective where they can answer all of your questions!
Or if you want to help foster families by becoming certified as a babysitter, The Fostering Collective can train you so you'll be eligible for 11 different agencies!

Foster Awareness Fridays

Every Friday in May, visit The Fostering Collective

 

Facebook page

 

to hear from experts in foster care.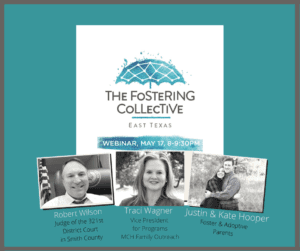 Bible verses to share
I will not leave you as orphans; I will come to you. –

 

John 14:18
Pure and undefiled religion in the sight of our God and Father is this: to visit orphans and widows in their distress, and to keep oneself unstained by the world. –

 

James 1:27
A father of the fatherless and a judge for the widows, is God in His holy habitation. God sets the lonely in families, He leads out the prisoners in singing… –

 

Psalm 68:5-6
What are ministry partners?
Ministry Partners are just that: partners in our Lord's ministry that we have gotten to know well and that we are aligned with!

So you can feel confident in who they are and what they do for others across our community.

They are non-profit ministries who focus on serving Christ by serving others in the way they are called to do so.

Each month, we will focus on a different Ministry Partner.